Black Rhino KD series MTBM slurry treatment plant of KOSUN Environmental mainly consists of shale shaker, desander, gravel pump and tapered tank. The shake shaker is equipped with coarse and fine screens, the coarse screens can remove coarse particles from mud, and the fine screens on desander and shake shaker can remove smaller granulated sand.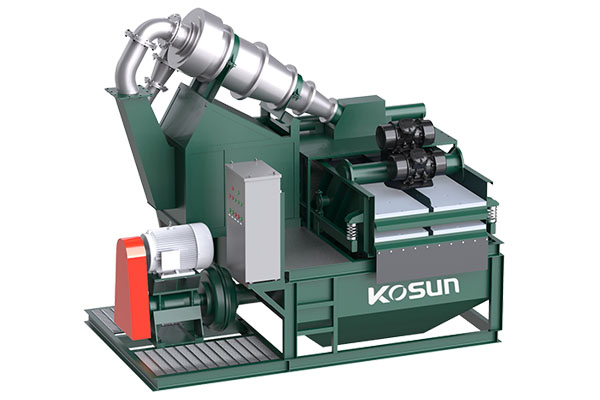 Mud closed-loop circulating purification mode and lower water content in slags help reduce the environmental pollution. Equipment parts of the system are of anti-corrosion and wear-resistance, long service life and low failure rate, and the system can be suitable for various severe working conditions. KOSUN MTBM slurry treatment plant is a kind of product that can be deeply customized. KOSUN can select color for equipment appearance according to the customer's requirements.
Overall Advantages of KOSUN MTBM slurry treatment plant:
-Simple and useful treatment process, as well as convenient installation, operation and maintenance;
-Modular and integrated design, transportation and installation subject to standard container size, foldable operating platform, compact structure, small footprint and flexible field use;
-Adjustable G-force of shale shaker, screen panel angle and mesh size, strong overall system adaptability and easier treatment of materials from various formations;
-The pipeline of slurry system adopts composite wear-resisting material, which extends its service life.
-Meet separation requirements on various materials and customize process as per the cut point of D50; meet the requirements on different handling capacities, with treatment range of 50~2000m3/h, through combination of different module units;
-Meet various power specifications as per construction needs, and even generator set can be used for operation;
-The whole system is skid-mounted integrated system and can be also changed into vehicle-mounted mobile treatment unit.