KOSUN KD-250 slurry treatment system for mud balance shield is of modular structure design, which is specialized for mud purification in small and medium slurry balance shield construction projects.
KD-250 system consists of KD-250 desanding module equipped with desander, primary shaker and a set of desilters used to separate fine particles. The mud first enters the desanding module via scalping shaker, which is equipped with a desander having one 18" cyclone in diameter and is capable to remove sand from the mud. The desilter with three 6" cyclones in diameter can further separate the mud as required.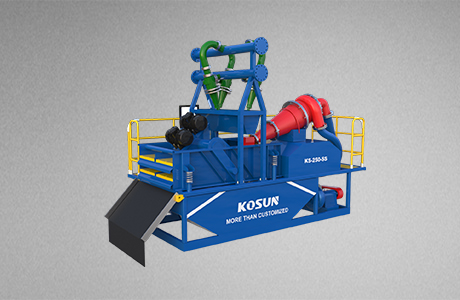 Main Technical Parameters of KD-250 Slurry Treatment System for Mud Balance Shield:
Max. Capacity: 250m³/h
Max. Mud Density: 1.18g/cm³
Sand Content (measured by elutriation meter):<18%
Main Body Volume: 2.3m³
External Dimensions: 4050×1600×3500mm
Total Power: 104kW
If you want to buy our products,you can contact us in the following ways.
1.Welcome to call the company sales hotline: 86 29 87304914;
2.Send mail:
sales@adkosun.com
;